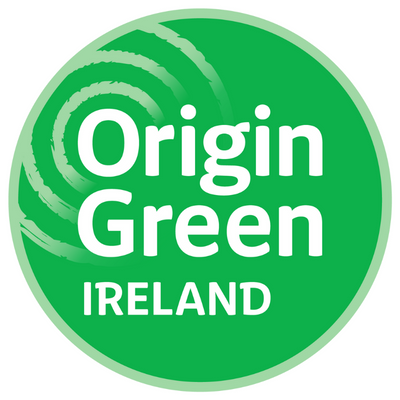 Origin Green Verified Member
Origin Green Sustainability Programme
Jane Russell's Original Irish Handmade Sausages were launched on the Dublin retail market in August 2004 to great acclaim.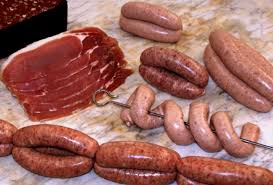 These high-meat, low-fat 'proper' sausages made with natural casings appeal to an ever increasing number of loyal customers who are delighted to be able to find such a product in Ireland. Being the 5th generation of a prize-winning pork & bacon curing family Jane instinctively knows what makes a good sausage.
Jane's range of sausages includes her Toulouse which won Gold at the 2005 Great Taste Awards and her new gluten-free Bratwurst. The company has also recently started making nitrate-free Dry-Cure Rashers.
Product range: – Original Irish Handmade Sausages – Toulouse Handmade Sausages – Italian Handmade Sausages – Bratwurst (Gluten Free) Sausages – Dry Cure Rashers
Customers include: Cavistons, Mortons, Listons, Nolans, Donnybrook Fair, Harvey Nichols, Garden Works, Wrights at Dublin Airport, Fresh, Supervalu (regionally), Ardkeen Stores, Dunnes Stores (regionally), and a number of farmers markets.
Why Us
It all began back in 1863 when Jane Russell's great great grandfather Edmund Burke established his pork and bacon business on O'Connell Street in Clonmel. Over the generations E Burke & Sons established a national reputation for quality and especially the quality of their sausages.
Almost one hundred and sixty years later Jane is proud to be carrying on this tradition making a range of premium, meaty sausages by hand in Kilcullen Co Kildare. Jane sources all her meat from Bord Bia approved Irish farms and only uses fresh shoulder and belly meat. Every batch is made the same. First the spices are mixed, these include mace, nutmeg, coriander, ginger and white and black pepper. Then the meat is minced and mixed with the spices. Once filled into natural casings the sausages are allowed to hang overnight to settle and packed the next day.
As we only use prime fresh cuts of Irish pork we do not have to use strong preservatives like nitrates or nitrites, nor do we fill our packs with preserving gasses.
Our product range
Roast Garlic & Red Wine Sausages
Toasted Fennell & Chilli Flakes
Pork & Leek
Pork Sausages
Gluten Free Bratwurst
Dry Cure Rasher Nitrate Free
Black Pudding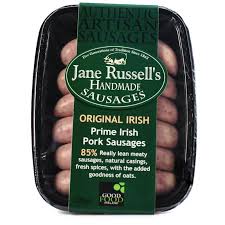 Our Accreditations
HACCP
Origin Green Verified
Our Awards
Gold at the 2005 Great Taste Awards
Recommended Suppliers
Specialists in
Innovative products for retail and food solutions for Foodservice including Hog House Pinchos - powerful bites of protein with a huge flavour hit, spicy Pizza toppings and bacon. BBQ rubs sold direct to consumer and retail
Channels
Foodservice, Manufacturing, Retail
Specialists in
Hand made Salads. Gluten free Salads & sandwiches, catering platters for all occasions of salads, meats, salmon and sandwiches. Handmade stuffing for butchers and Christmas packs for Pettitt's & Tesco.
Channels
Foodservice, Retail