Raised in the Atlantic Ocean
Ireland's western coastline of dramatic peninsulas and deep bays has been shaped by the power of the Atlantic Ocean. These wild waters give Ireland access to some of Europe's richest fishing grounds. Here, warm gulf stream currents mix with cold freshwater from Ireland's vast network of rivers and streams to provide the ideal conditions for fish and shellfish to thrive.
Irish Mussels flourish naturally in this pristine environment, fed by the plankton in their surrounding marine environment. Clean waters and quality mussels go hand in hand, and Ireland's sea waters are closely monitored and protected by government agencies to ensure they provide the optimum conditions for shellfish to grow. Organisations such as the Food Safety Authority of Ireland, the Sea Fisheries Protection Authority and the Irish Marine Institute work together to ensure Ireland's marine environment is protected and safeguarded for the future.
While Irish Mussels grow entirely naturally, Irish mussel farmers play a role in finding the ideal environment for them to thrive. Mussel farmers use special reusable ropes suspended in the ocean, to which the mussels naturally attach and in some cases, where waters are shallower, mussels are grown on the seabed itself.
Organic Mussels
Ireland is an international leader in organic seafood production and is committed to the responsible harvesting of its renewable marine resources. Irish organic mussels are certified to the European Organic Mussel Standard, governed by EU Commission Regulation 710/2009.
As mussels feed entirely naturally on plankton, the European Organic Standard relates to environmental management. Irish mussel producers adhere to strict environmentally friendly practices in every aspect of their work.
This includes
Responsible sourcing of seed from sustainable stock
Energy and water conservation and use of renewable energy sources.
Responsible waste management
Commitment to reuse and recycle materials and to progressively work towards phasing out the use of non-recyclable materials.
In addition to the European Organic Mussel Standard, Irish organic mussel producers are also certified to internationally recognised standards such as AB bio and The Carbon Trust.
Sustainability
Through their membership of Origin Green, Irish Mussels Producers commit to a rigorous focus on sustainability. Origin Green is Ireland's pioneering national sustainability programme operated by Bord Bia, The Irish Food Board. Through the Origin Green programme, individual companies set and achieve ambitious and measurable sustainability targets in areas such as raw material sourcing, emissions, energy, waste, water, biodiversity and social sustainability. Find out more about what Irish companies are achieving at www.origingreen.ie
Quality and Nutrition
Irish Mussels take between 15 months to two years to reach market size. They are then harvested, processed and packed according to the highest food safety and environmental standards. Irish Mussels are brought to market already cleaned and either ready to cook or precooked and ready to heat and serve.
Irish mussel farmers are certified under the Irish Fisheries Board 'Certified Quality Aquaculture' programme. This means that they adhere to best-in-class environmental management practices and food safety measures.
In addition to being entirely naturally fed, Irish Organic Mussels have an excellent nutritional profile. Mussels are rich in protein and low in calories. They are also a rich source of iron, vitamin B2 and B12. Vitamin B2, also known as riboflavin, is an easily absorbed micronutrient that is required for a variety of cellular processes and plays a key role in energy metabolism. Vitamin B12 plays a key role in the normal functioning of the brain and nervous system. Mussels also have excellent levels of sodium, potassium, iron, iodine, zinc, and selenium which help guarantee good health and are a rich source of vitamins such as B1, B2, B12 and vitamin E.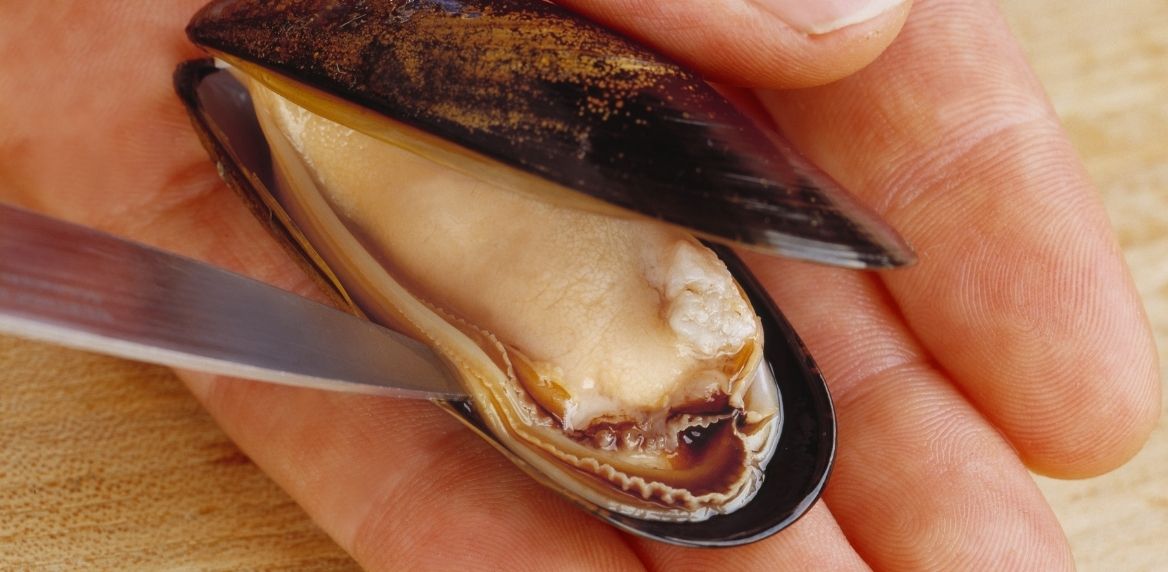 Origin Green Verified Irish Mussels Producers