When it comes to beef, consumers around the world are increasingly looking for natural, sustainable, high quality products.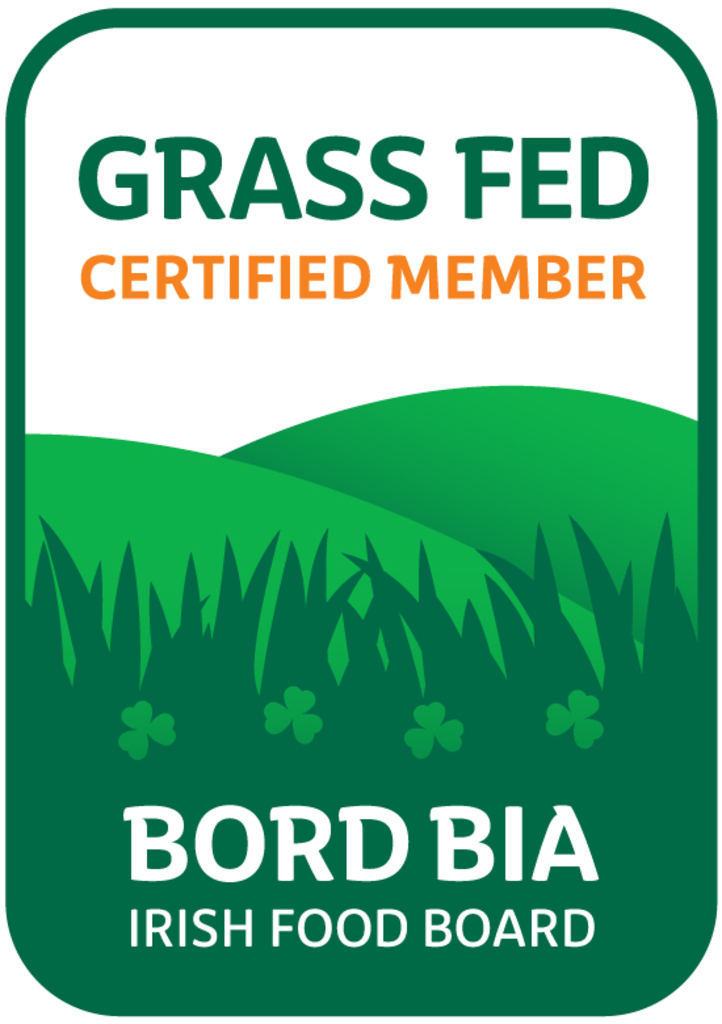 Here on the island of Ireland, our beef sector is rooted in grass-based production systems at farm level meaning that Ireland is ideally positioned to meet the growing demand for premium grass fed beef.
Our lush green fields, fresh, clean air and plentiful rain has always provided us with the perfect environment for rearing grass-fed cattle and now we can verify it with proof through the Bord Bia Grass Fed Standard for Irish Beef.
What is the Bord Bia Grass-Fed Standard for Irish Beef?
The new Bord Bia Grass-Fed Standard for Irish Beef is the world's first independently verified standard that provides verifiable proof of the grass-fed status of each and every qualified animal. Therefore, it provides assurance for what we have long known to be true: grass is intrinsic to the quality of Irish beef.
The Standard sets out the Bord Bia specification to enable classification of beef products as 'Grass Fed'. The term "Grass Fed" for beef means that the diet of the animal is composed of minimum 90% grass or grass forage and graze in open pastures for an average of 220 days a year during their lifetime. It uses data collected during farm audits as part of the Bord Bia national Sustainable Beef and Lamb Assurance Scheme , a voluntary scheme operating under Origin Green, Ireland's national food sustainability programme. Through the Standard, Irish processors will now be able to provide proof to support the claim that their beef products come from qualifying grass-fed cattle.
The Bord Bia Grass-Fed Standard for Irish Beef has been developed in consultation with relevant stakeholders from the beef sectors including the Department of Agriculture, Food and Marine, Teagasc, Farmers, and Beef Processors. For further details and read the Bord Bia Grass-Fed Standard for Irish Beef, please click here.
Why was the Bord Bia Grass Fed Standard developed?
Consumers around the world are increasingly expressing a desire for beef products that can be verified as grass fed and the market requires evidence to back the claim. Research from Ernst and Young, shows that 50% of consumers globally now express a preference for grass fed beef. Almost two thirds (64%) of consumers are willing to pay more for grass fed beef, driven by its strong association with terms such as 'natural', 'healthy' and 'premium'.
The Bord Bia Grass Fed Standard provides the industry with standardised and verifiable proof that Irish beef meets the Grass Fed Beef requirements. This is communicated to consumers through the use of a unique logo on eligible products.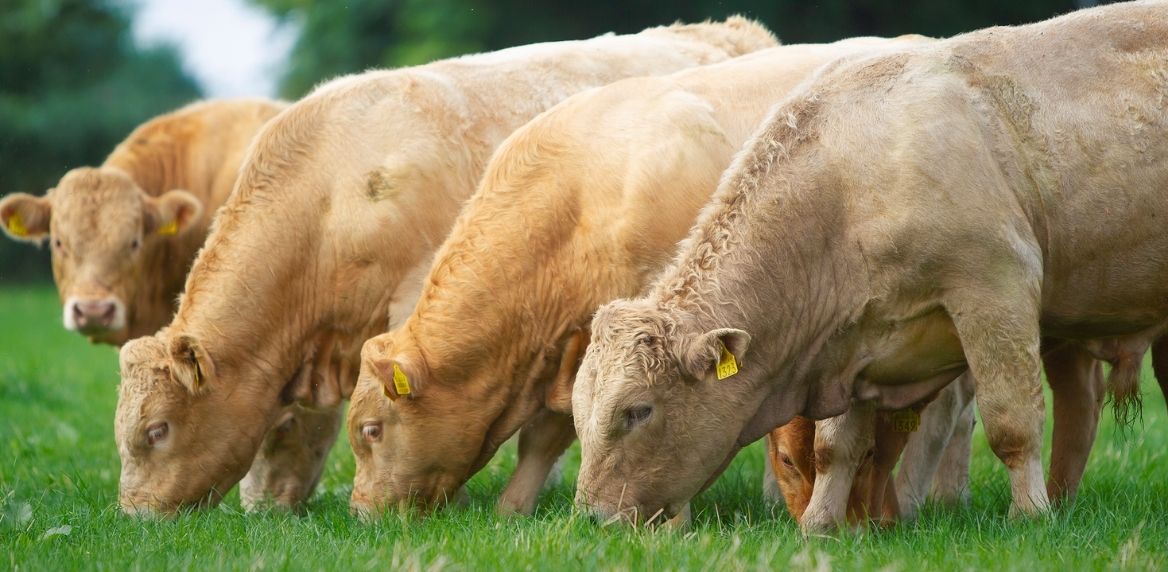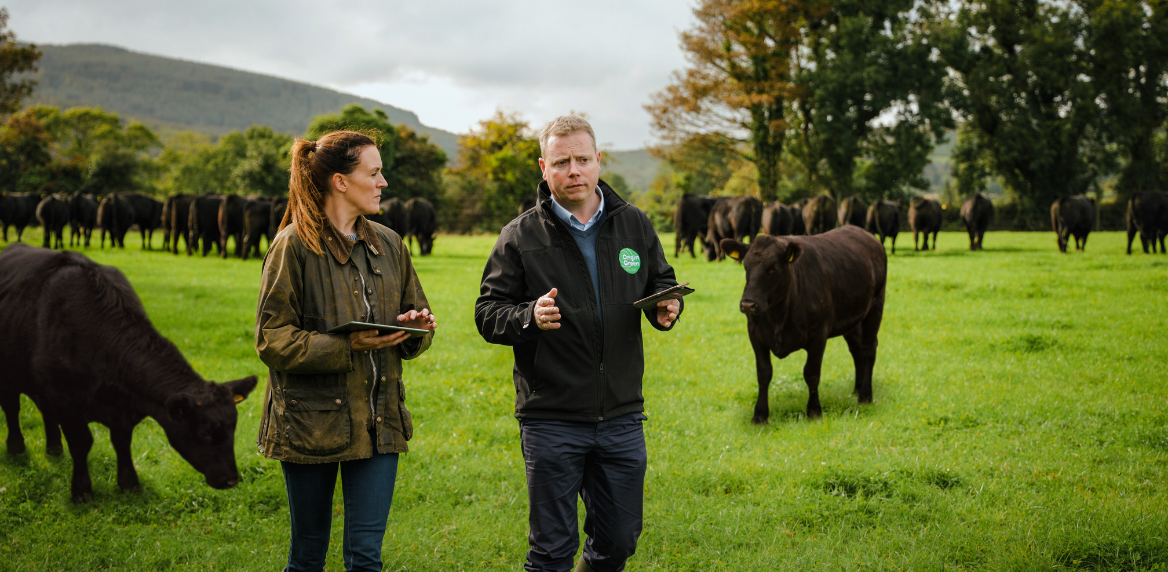 Origin Green
Irish beef farmers who are members of the Sustainable Beef & Lamb Assurance Scheme (SBLAS) are active members of Origin Green. Origin Green is Ireland's leading edge national food quality and sustainability programme. As members, the work of beef farmers is measured and independently audited to drive continuous improvements across the supply chain in areas such as food safety, traceability, animal health and welfare, greenhouse gas emissions, and water and soil management. This enables farmers to set and achieve measurable sustainability targets that respect the environment.
Sustainable Beef & Lamb Assurance Scheme
The Sustainable Beef & Lamb Assurance Scheme (SBLAS) is a national quality assurance programme which ensures that our farms are run to the highest standards possible. It is a rigorous and independently accredited quality assurance scheme, devised and agreed by a Technical Advisory Committee that includes representation from numerous institutional bodies and entities. The scheme provides a uniform mechanism for recording and monitoring quality and sustainability criteria on farms. It also sets out criteria for best practice in Irish beef farming.
Suppliers in this Category
Specialists in
ABP ensure the value of by-products is maximised and the environmental impact of our business and customers is minimised.
Markets
Africa, Asia Pacific, Europe, North America
Specialists in
Quality Irish beef for the retail, foodservice and manufacturing sectors across UK, Europe, Asia and the Middle East.
Markets
Asia Pacific, China, Europe, Middle East