Silver Pail Dairy, founded by Michael Murphy in 1978, is operated as a privately-owned family business and is well established in the Irish market in both foodservice and retail.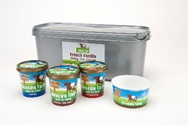 In the last number of years, it has developed a very strong export business in the UK and is looking to continue this across continental Europe.
Silver Pail produces premium own-brand ice creams and frozen desserts for retail, alongside its extensive range of ice cream, sorbet, frozen yoghurt and freezer-to-table desserts for the foodservice market.