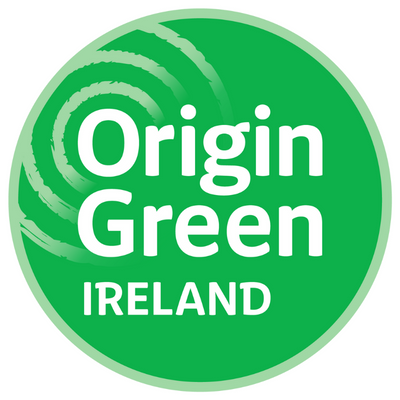 Origin Green Verified Member
Origin Green Sustainability Programme
Origin Green Verified Member
Good4U is an award winning, family run business based in Sligo. It was founded by the Butler family in 2004 with the vision to become the world's most loved and trusted health food brand. More than a decade on, that vision is becoming a reality with Good4U products on the shelves of some of the largest retail chains in the world in both the sale of branded and private label snacks and ingredients. The company have stayed true to their mission of providing their community with clean, honest, nutritious and tasty snacks and ingredients at affordable prices. It all began when Good4U launched Super Sprouts after being introduced to the sprouting phenomena. It is well documented that sprouts contain cancer-protective compounds and this was something the Butler family wanted to ensure was readily available to the market. Now market leaders in the UK and Ireland, Good4U sprouted seeds are on the shelves of over 2000 supermarkets. The company diversified into snacking in 2017 and now supply a wide range of healthy snacks for all the family which have been recognised with over 20 awards both nationally and internationally including Blas na hEireann, Sainsburys Top New Product, Free From Awards, The Grocer Award and Quality Awards to name a few. The ever-expanding product development team work continuously on developing innovative products to meet the shifting demands and trends of a dynamic and exploding market. Good4U have an array of product innovations on the horizon.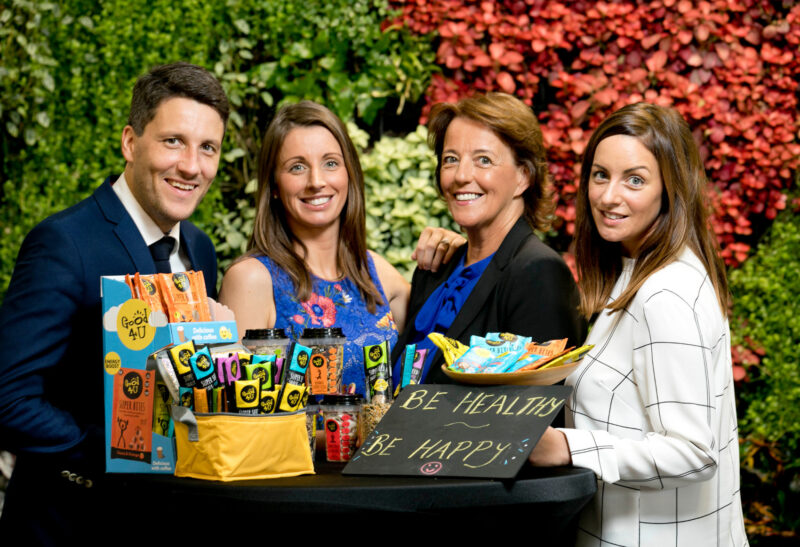 Why Us
Good4U strive to empower people of all ages to live a healthier life with their nutritious foods and snacks. Passionate about making healthy eating accessible to everyone Good4U take a two-pronged approach;
1. We equip people with information that enables them to make better food and lifestyle choices through expert advice from nutritionists & dieticians and a digital platform for our community to learn, engage and share experiences.
2. We create and offer healthy, honest and nutritious snacks and ingredients at an affordable price
Good4U is revolutionising the health food and snacking space with a no compromise approach we believe that health foods can be honest, tasty, inclusive and affordable, whilst always placing product integrity at the heart of everything we do.
Our product range
Energy Balls:
Cocoa & Orange
Mint & Cocoa
Banana & Cocoa
Kids Mini Energy Balls:
Strawberry
Banana
Super Shots:
Energise Cocoa & Orange
Focus Apple & Cinnamon
Recharge Coconut & Berry
Veggie Protein Smoky BBQ
Veggie Protein Tandoori Crunch
Veggie Protein Salt N' Pepper
Sprouts:
Super Sprouts
Quinoa Sprout Mix
Lentil Sprout Mix
Super Seed Pots:
Super Seed Sprinkles
Super Fruit & Seed Sprinkles
Coconut Super Seeds
Orange Super Seeds
Omega Super Seeds
Salad Super Seeds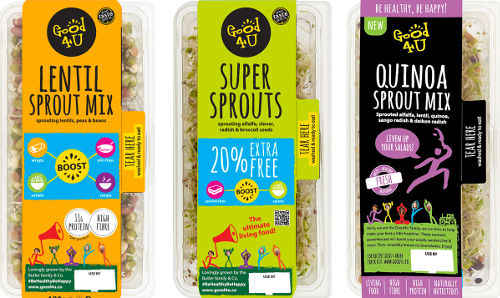 Our Accreditations
BRC
Origin Green Verified
Our Awards
Free-From Food Awards 2017, Bronze - Energy Balls Cocoa & Orange
Sligo Business Awards 2017 - Winner "Best Family Business"
Irish Quality Food, Q Awards, 2016 'Highly Commended' - Orange Super Seed Pot
Recommended Suppliers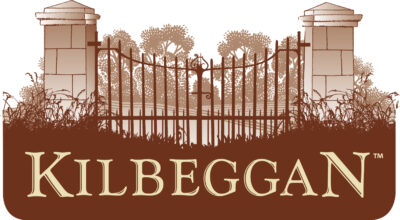 Specialists in
Organic oats and oat-based products, including porridge oats, cookies and bread mixes.

Specialists in
High quality baking products.
Channels
Foodservice, Retail