Established in 1893, Huitre Du Connemara is one of the oldest oyster farms in the country and is situated along the Wild Atlantic Way in Ballinakill Bay, Letterfrack, Co. Galway.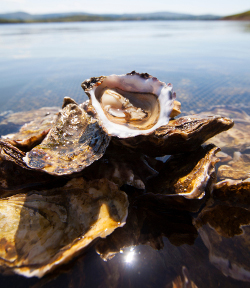 Oyster Farming by its very nature is low impact. As oysters are filter feeders, no additional feed is required. A well-chosen site with quality water and an abundance of phytoplankton is key to the production of premium oysters.
Huitre Du Connemara's site in Ballinakill Bay consists of 345 acres of sea bed and onshore facilities of approximately five acres. The long history of culturing oysters in the area is testament to the suitability and sustainability of the site.
All the oysters come from approved European hatcheries. There, they are tested to ensure that every oyster is in perfect health to prosper in the clear waters of the Atlantic Ocean.