Raised in the Atlantic Ocean
Ireland's Western coastline of dramatic peninsulas and deep bays has been shaped by the power of the Atlantic Ocean. These wild waters give Ireland access to some of Europe's richest fishing grounds. Irelands Atlantic Coast provides the perfect conditions for the production of top quality organic salmon and Ireland is a proud world leader in organic salmon production.
Irish Salmon farmers benefit from Gulf Stream currents along with cold freshwater from Ireland's vast network of rivers and streams which provide nutrient rich, cool, clear waters. Fresh waters and strong currents encourage sturdy growth and Irish organic salmon swim the equivalent of 13,000km over a period of approximately 18 months while growing to maturity.
Organic Certification
Ireland is proud to be the only producer of Organic Salmon in the EU with 100% of salmon from Ireland certified to strict organic standards. A key requirement for organic certification is responsible feeding and diet. You can trust that all Irish Organic Salmon has been fed a diet of natural ingredients, free from GMOs with feed sourced from sustainable fisheries. In addition, fish welfare and health are a top priority with all Irish Organic Salmon living in a pure seawater environment where there is a ratio of 99% water to 1% salmon.  Finally, you can be assured that all certified organic Irish Salmon grow in an environment where maintaining a healthy and sustainable aquatic ecosystem is a top priority achieved through responsible farming practices. As well as the EU organic label, Irish salmon is also certified to highly regarded quality standards such as AB Bio.
Sustainability
Through their membership of Origin Green, Irish Salmon Producers commit to a rigorous focus on sustainability. Origin Green is Ireland's pioneering national sustainability programme operated by Bord Bia, The Irish Food Board. Through the Origin Green programme, individual companies set and achieve ambitious and measurable sustainability targets in areas such as raw material sourcing, emissions, energy, waste, water, biodiversity and social sustainability. Find out more about what Irish companies are achieving at www.origingreen.ie
Quality and Nutrition
As well as being a naturally delicious option, Irish Organic Salmon is also among the easiest of fish to cook and prepare. Whether you like yours pan-fried with Irish butter, oven baked with herbs, stir-fried with fresh vegetables, or you buy it smoked and ready to serve Irish organic salmon is endlessly versatile.
Irish organic salmon delivers many powerful health and nutritional benefits. Salmon is high in protein and Omega 3 fats and is a rich source of many important vitamins and minerals that benefit the heart and circulation.
Irish organic salmon can be supplied in a wider variety of formats including fresh, frozen, smoked, and prepacked.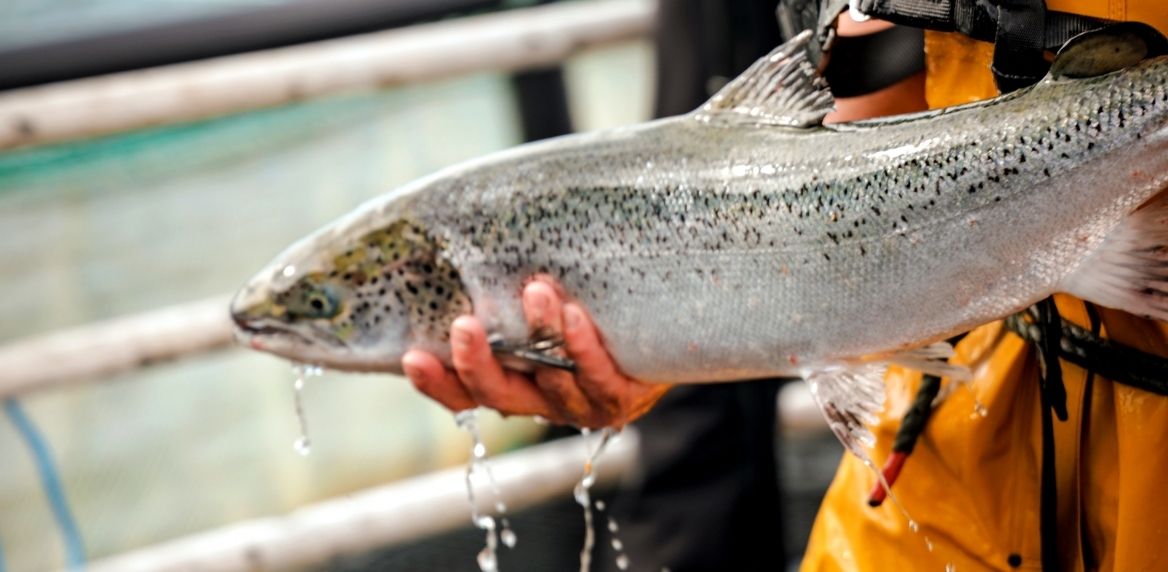 Origin Green Verified Irish Salmon Producers

Specialists in
Frozen pelagic fish, including mackerel, horse mackerel, herring, sprats, blue whiting and also marinated herring products.
Markets
Africa, Asia Pacific, China, Europe, Middle East, North America
Specialists in
Salmon, organic Irish salmon and white fish.
Markets
Europe, Middle East
Specialists in
Markets
Africa, Australia, China, Europe, Middle East, North America, South America